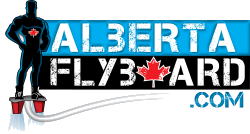 Welcome to Alberta Flyboard® Inc.
Alberta Flyboard® Inc. is a family owned and operated company, with representatives in both Edmonton and Calgary, Alberta. Our company is one of the first dealers of the Flyboard® in Canada.
We are your Alberta source for the Flyboard® by Zapata Racing, the newest in Extreme Sports! At last, after a long wait from the time the first YouTube video went viral, the Flyboard® is finally here! With four instructors on staff, we will have you certified and out the door with your Flyboard® in no time! Contact us or check out the Products page for more details on how you can have your very own Flyboard®!
Our demo team was busy last season displaying the Flyboard® at events all over Alberta and B.C. such as the NBD Watersports Sylvan Lake Launch Event, Keloha Music Festival, Chestermere Lake Water Festival, and on the Rick Mercer Repor. Our team continued to debut the product throughout the summer of 2012. Alberta Flyboard® Inc. represented Canada at the World Championship of Freestyle Flyboarding® in October in Qatar. Brody "Rainman" Wells did very well with a top 8 finish!
This season Alberta Flyboard® Inc. is bringing you the opportunity to get out and fly! We will be renting and training, selling and certifying! We are very proud to be offering Flyboard® rentals at both Sylvan and Jackfish Lakes. We are offering individual rates and group rates, from 1/2 hour lessons to all day events and anything in between. Follow the link above or Click Here to book your Flyboarding® experience today.
Keep Informed! Our events are always being updated on our online Calendar and there is always something to see on our Facebook and Twitter feed. Like us on Facebook and follow us on Twitter to keep updated on the latest in Canadian Flyboarding®!
Alberta Flyboard® Inc., Sylvan Lake Alberta. Offering sales and rentals of the Flyboard® to all of Alberta and most of Western Canada. Including Emdonton, Red Deer and Calgary. You can book your lessons online right here or phone 1.587.982.4623. It's fun, exciting, it's a ride you won't soon forget. Book your lesson rental and come Flyboard® in Sylvan Lake Alberta today. Fly On!